30 January 2020 – Nature is declining at a rate unprecedented in human history, with one million species now threatened with extinction. This degradation of nature affects society as a whole, including businesses that rely on natural resources, like the fashion sector. This report sets out how companies can create strategies to address their impacts on biodiversity.


Biodiversity, the living component of nature, is under threat; globally biodiversity is undergoing a precipitous decline. Businesses and society will suffer if this rate of decline continues, not least because the goods and services provided by biodiversity are essential for the stability and resilience of production systems across the world. The current nature crisis demands immediate action and the international community is placing a spotlight on nature in 2020. It is therefore critical for businesses to ensure they have a strategic response to the challenge.
This primer focuses on the practical steps a fashion company can take immediately in order to develop a biodiversity strategy. It draws on a new approach called the Conservation Hierarchy, a flexible framework which can be used to develop strategy and guide decisions about how a company interacts with biodiversity.
This document sets out eight steps to developing a biodiversity strategy. It aims to outline how a strategy should inform a fashion company of its impacts and dependencies on biodiversity and where to prioritise action. It highlights how a company can identify a portfolio of mitigation actions to reduce impacts on and restore biodiversity.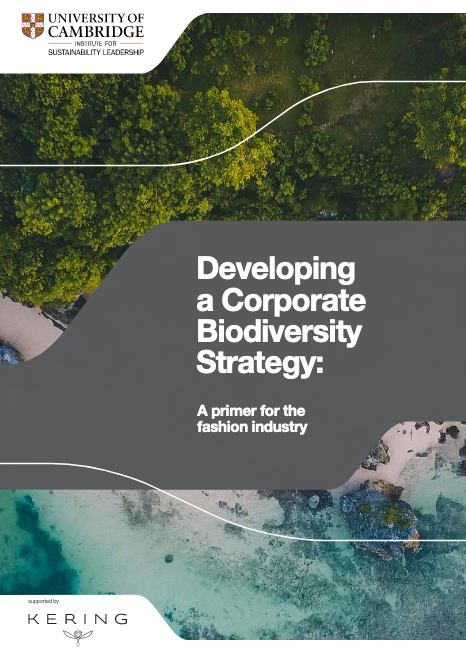 Marie-Claire Daveu, Chief Sustainability Officer and Head of International Institutional Affairs, Kering, said:

"Supporting biodiversity is essential for the stability and resilience of production systems across the world. Adopting a corporate strategy around biodiversity to support nature and at the same time create the foundation for more resilient supply chains is vitally important. Our primer with CISL outlines how a strategy should inform a fashion company of its impacts and dependencies on biodiversity and where to prioritize actions in clear step-by-step recommendations. »

https://www.cisl.cam.ac.uk/resources/publication-pdfs/developing-a-corporate-biodiversity-strategy.pdf