"COMMITTED TO A SAFER AND MORE SUSTAINABLE WORLD"
LIFE-FLAREX studies how to mitigate the environmental impact caused by current Flame Retardants, used in the textile finishing industry for contract applications, by analyzing and demonstrating their non-toxic alternatives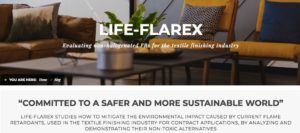 The venue will be in EURATEX facilities in Brussels at Rue Montoyer 24, B-1000 Brussels.
The  agenda is now released.
This workshop is co-organized by LIFE-FLAREX project team, the European Chemical Agency (ECHA) and EURATEX.
The workshop's objectives are to:
Present a case study of a EU project aiming to find and demonstrate sustainable alternatives to Flame Retardants containing halogenated organic compounds, antimony or releasing formaldehyde for the home textile sector.
Discuss early results with international experts and increase stakeholder engagement.
Inform the industry about the needs to move toward alternative flame retardants and currently available alternatives for home textile with emphasis on carpets and upholstery for home furniture.
Collect industry feedback about a pressing topic and engage industry collaboration for validation of safer and greener alternatives.
Foster networking among the different stakeholders involved in the home textile sector, particularly textile finishers, flame retardant producers and end-users.
Stakeholders in the home textile sector, particularly, chemical manufacturers of flame retardants, textile finishing companies, textile companies related to home textiles and retailers of home textiles, academic/R&D experts in flame retardant technology, textile-related business associations, policy-makers and NGOs.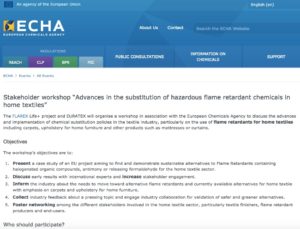 https://echa.europa.eu/-/stakeholder-workshop-advances-in-the-substitution-of-hazardous-flame-retardant-chemicals-in-home-textiles-?