> 24th-25th April 2018, Amsterdam
Sustainable apparel: How brands can transform supply chains
The latest innovations in circular fashion, transparency and factory engagement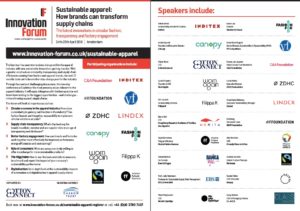 The last year has seen tremendous change within the apparel industry with new sustainable innovations gaining traction. With a greater emphasis on circularity, transparency and supply chain efficiencies coming from fashion and apparel brands, the next 12 months looks set to be another step-change year for the industry.
Through focused and challenging discussions, this two-day conference will address the most pressing issues relevant to the apparel industry. It will equip delegates with the best-practice and know-how relating to the biggest opportunities – and challenges – in transforming apparel supply chains.
The forum will look at major issues such as:
Circular economy in the apparel industry: How close is circularity to gaining real traction in the industry? Can fashion brands work together successfully to implement circular solutions at scale?
Supply chain transparency: What's the best way for brands to collate, monitor and use supplier data in an age of transparency and disclosure?
Better factory engagement: How can brands and factories work together more effectively for improved performance, energy efficiencies and cost-savings?
We will also have focused, practical working sessions on topics such as:
Engaging procurement: A pragmatic look at what works – and what doesn't – when working with procurement departments
The Higg Index: How to use the tools available to measure, benchmark and report the impact of your company's sustainability performance
Viscose: A closer look at the emerging deforestation threat and the options available for companies to stay one step ahead
Digitalisation: An in-depth look at the sustainability impacts of automation and digitalisation in apparel supply chains
Role of consumers: What are consumers truly willing to offer in exchange for more sustainable products?
https://innovation-forum.co.uk/sustainable-apparel
https://innovation-forum.co.uk/perch/resources/if-sustainable-apparel-2018.pdf